After Service Coffee Time
Every Sunday after service you are invited to join us in Fellowship Hall for coffee, treats and fellowship. This is a time to meet new people and to catch up with old. Rev. Scott usually stops in to say hello!
---
Spring Lunch and Card Party 
Our Pastoral Care team hosts a Spring Lunch and Card Party, featuring a light lunch, duplicate bridge and lots of prizes!  You can join by contacting the office or watching our Facebook page for updates.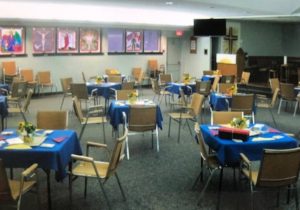 ---
 Bill Armstrong Charity Auction
Our November Auction is one of our biggest fundraisers!
In the past there have been Raptors tickets, Maple Leaf tickets, paintings, jewelry, and restaurant gift cards up for grabs.
Besides bidding on some great items there are refreshments and lots of fun to be had.
---
Garage Sale Every May -CANCELLED FOR 2023
Who doesn't love a spring garage sale? We do at Trinity!
Usually, on  the first or second Saturday in May our parking lot will be busy with activity with all of our tables set up with great finds we have been collecting through the year.
Watch our Website or Facebook page for the date.
---
Trinity Learning Community (TLC)
TLC is a group that meets monthly for a Pot Luck Supper and a discussion. Turns are taken choosing topics and leading the discussion. Time is spent catching up on  everyone's  lives. A very friendly, caring group that keeps in touch between meetings and offers support. We have likened ourselves to group therapy!
All are welcome to join in.
---
Senior Choir
Trinity boasts one of the best church choirs in town. To all who enjoy music and would like to be part of a dynamic music fellowship, please join us on Thursday evenings for choir practice at 7:30 p.m. to become part of this fun loving group.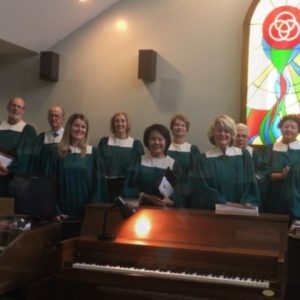 Prayer Shawl Ministry
Do you enjoy knitting or crocheting? If so, the Prayer shawl Ministry is looking for you! Members crochet or knit small Payer Shawls  which are then blessed by Rev. Scott and given to people in need of a blessing or support.

Peace Garden
The Memorial Committee has commenced an ongoing project to develop the area between the woodland and the west wall of the church building into a "Garden of Peace". The space under the roof overhang has been paved with patio slabs and Memorial benches have been added for the enjoyment of visitors who wish to rest and enjoy respite from the business of day to day life in a small, quiet, and peaceful setting.