Trinity is a small active church with both social and religious activities for people of all ages in Oakville and surrounding area.
WE ARE SAVING A SEAT FOR YOU!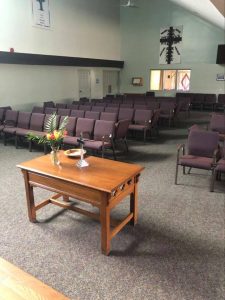 You are always welcome to join us.   Whether it is in our family-orientated church services which are designed to be enjoyed and not endured, or at one of our events or programs, Trinity is a place you can always come to feel at home. It is a place where you and your family will feel safe and affirmed.
You may be here because you have some questions about faith. So do we! Every day is an opportunity to learn more about God, Christ, and humanity, and how all of those things intersect.
Ever wonder who Jesus was and why it matters?
Ever wonder how the Bible is supposed to apply to real life?
Ever wonder how to fit in faith as part of everyday life?
These are the kinds of questions that we explore at Trinity.
You are always welcome to explore with us, to come and grow with us.
We are proud at Trinity to offer many forms of outreach, ways of meeting and enjoying each other's fellowship. We are wheel chair accessible and our sound system includes assistive hearing devices to allow people with hearing impairments to enjoy our worship Services. Join us for worship each Sunday morning at 10 a.m.