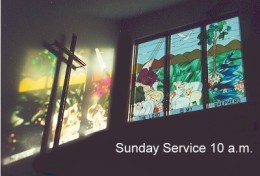 SUNDAY SERVICE
You are warmly invited to join us for worship every Sunday morning at 10 am.  Rev. Scott Beckett, Music Director Carole Falconer, the wonderful Trinity choir and other members of the congregation lead worship that is slightly informal, very welcoming, and always interesting. Trinity is wheelchair accessible and we offer assistive audio devices for people with hearing impairments. You are invited to stay after the service for some refreshments and snacks and Christian fellowship with other visitors and members of the congregation.
We look forward to meeting you in the near future!
SUNDAY SCHOOL
Sunday School lessons are designed to follow the weekly message of worship service. We work to share the message that we are all God's children and that God truly loves everyone. Each week we have fun learning the lessons through various activities including arts & crafts, music & videos, worksheets, cooking and more! We offer different teachings to accommodate a wide age range of children and we welcome any child to participate in Sunday School.  To see what we have been up to, join us for our weekly Sunday service at 10am where your children can enjoy Sunday School and you can see photos and works posted in the narthex and fellowship hall. Please go to our Youth Ministry page for more information.
Virtual Prayer Service
Every Wednesday at 7 pm, Rev. Scott offers a virtual prayer service on Zoom. To join you only need to log in to:  https://zoom.us/j/94423294225
---
Weekly Lenten Study (2022)
During Lent this year, sermons will be exploring the obstacles that Jesus faced in his ministry. These range from people to concepts, and not all of them are things that Jesus overcomes. No life is without its own obstacles, and hearing the obstacles that others face may allow us to be more empathetic, and also think about the challenges that we face in new ways, as well as how we might interpret scripture or faith in new ways.
This study consists of one scripture drawn from the upcoming worship service, an online video less than 20 minutes long, and a couple of questions for reflection. You are welcome to engage with this material in whatever way you would like and at any time. If you are interested in discussing anything that comes out of this process, please email me to indicate your interest and you will be included in the planning of a discussion session, likely on ZOOM, during Holy Week.
We pray that all burdens are lifted, but until that time may we hear one another with love.
Expect a new video and new questions each week.